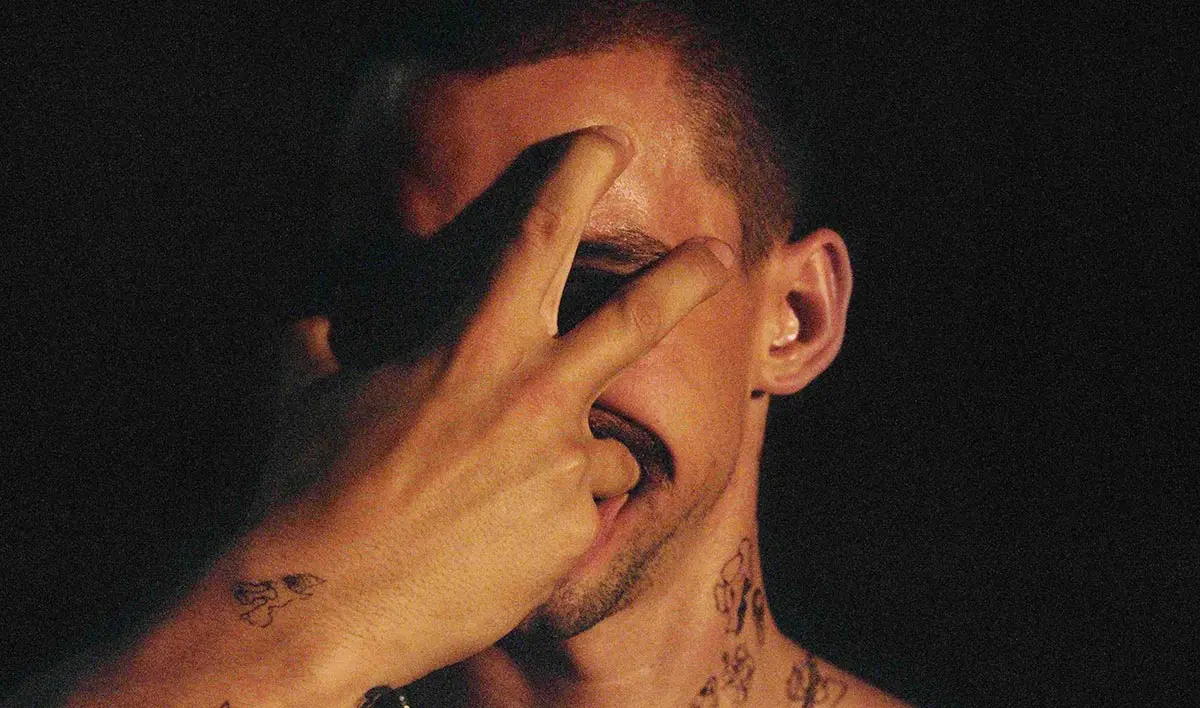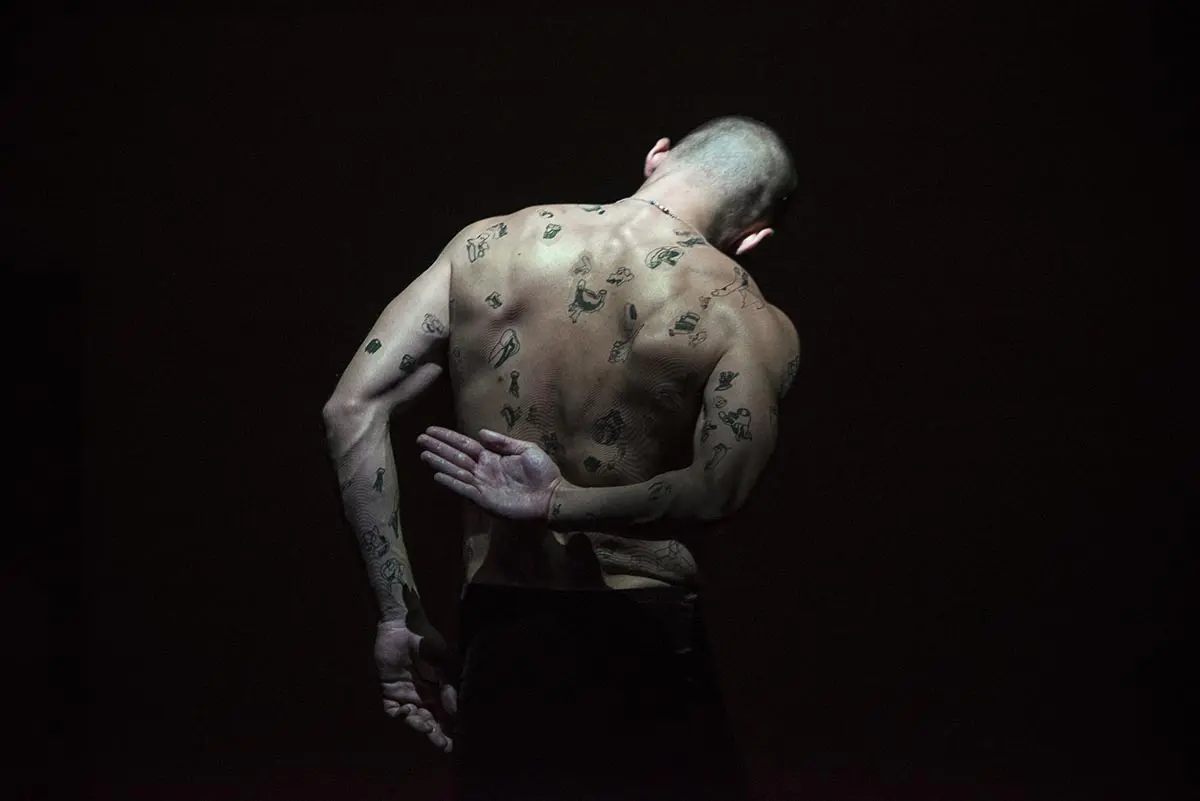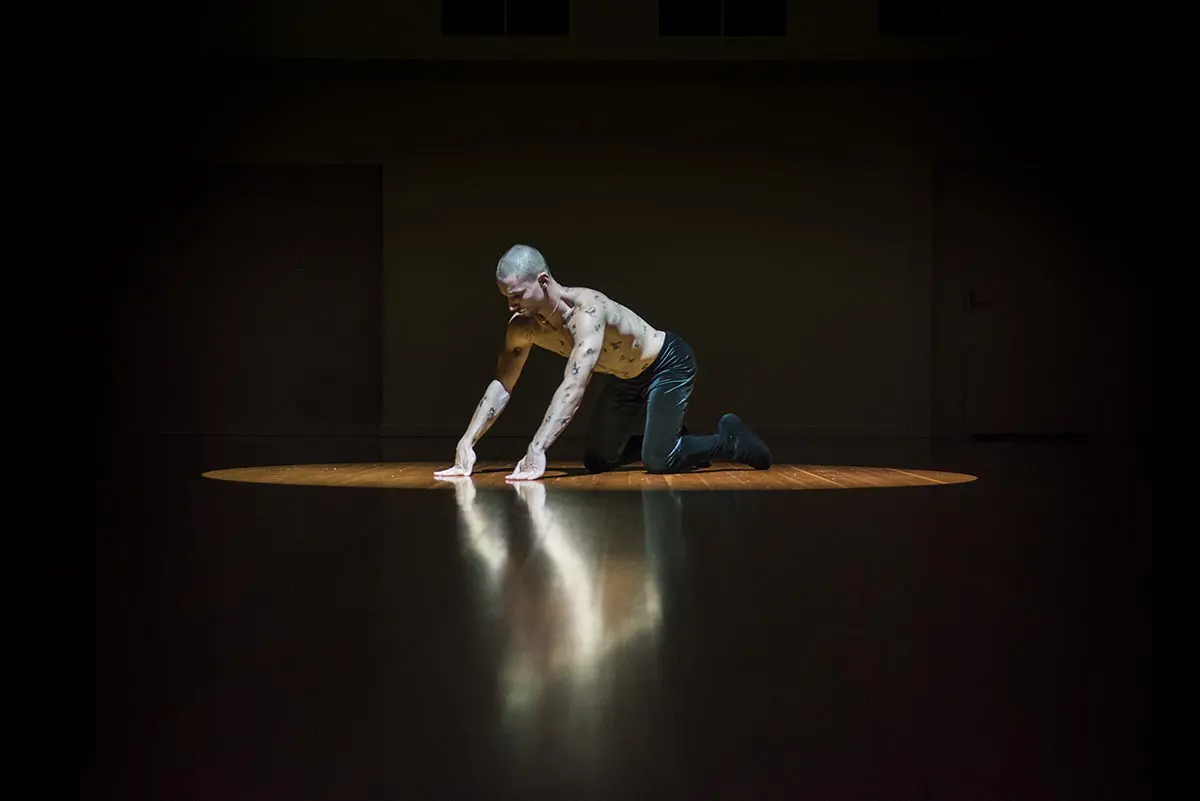 Hyperspace
Hyperspace is a 40 minute performance shown in intimate theatres and unique found spaces. It premiered in Bassano del Grappa in 2018 and was presented in Dance Massive in Melbourne 2019 before extensive touring in Europe. It was chosen as an Aerowaves Twenty work for 2019.
From the human body to the cosmos, Hyperspace is an inquiry into the metrics we use to measure the deep unknowns of the universe. It proposes a study of the human body seen through the prism of cosmology, a mapping of the universe within and around it. In Hyperspace, the fleshy material of the body bends, stretches and is reconfigured as alien transmutation, appearing simultaneously colossal and microscopic.
Hyperspace is the third in a series of works (Deepspace 2016 + Redshift 2017) that grew from James' unique opportunity to be part of a scientific expedition led by the Institute for Marine and Antarctic Studies to the sub-Antarctic Heard and McDonald islands in 2016.
James Batchelor and Collaborators commissioned Chloe Chignell to write an essay titled A Strange Topology that reflects on some of the ideas and wider resonances of Hyperspace in conversation with her own ideas and those of other artists/writers.
'Could we imagine a hand, no longer as a hand, but as a winding folding surface, a landscape of peaks, valleys and fields? As our sense of scale shifts units of the body dissolve, through sensuality, into their fleshy composition. Once hand, now elastic terrain. Heat, texture and porosity are the nature of this touch. The hands become agents of their own exploration. Where skin is a landscape that through touch we can come to know again. A map of body, as body, made one to one with its terrain.'
Creative Team
Choreographer, Performer: James Batchelor
Composer, Sound Design: Morgan Hickinbotham
Dramaturge, Collaborator: Bek Berger
Lighting Design: Beizj Studio
Illustration Design: Amber McCartney
Partners
Hyperspace has been developed with partners Centro per la Scena Contemporanea (Bassano del Grappa), Dance 4 (Nottingham) and Dancehouse (Melbourne). Hyperspace has been assisted by the Australian Government through the Australia Council, Creative Partnerships Australia through the Australian Cultural Fund, The Besen Family Foundation, The Keir Foundation and Michael Adena and Joanne Daly.
Reviews / Press
One of the most exciting Australian dance artists to emerge in recent years, James Batchelor has forged an impressive resume as both a performer and choreographer. In both capacities, his practice is highly collaborative, exploring not just the ways dance intersects with other artforms but how the body intersects with the abstract. Science has been a particularly powerful muse in Batchelor's recent creations. This latest piece – the third in a series of science-focused productions – is a prime example, examining the unfathomable metrics of the universe and the ways humanity interacts and understands the vastness of the cosmological. - Timeout
Batchelor's HYPERSPACE was an odyssey in exquisitely controlled movement that saw his naked, tattoo'd torso uncurl and stretch out like a universe ready to be mapped.
As his long hands paddled the air, or apprehended his face, met with skin, explored musculature, his painted fingertips twinkled, yes! like stars... Bit by bit, as the soundscore thrummed and swooshed, he flexed and stretched - never hurried, always with a focussed precision as if time, as well as lithe flexibility, was being measured. - Herald Scotland
DATES ∴
PAST
15.06.23
Hyperspace KW
@ KW Institute for Contemporary Art • Berlin, Germany
16.07.22
Hyperspace Wonderfeel
@ Wonderfeel • s'Gravesland, Netherlands
28.05.22
Hyperspace Oslo
@ Nedre Foss Park • Oslo, Norway
11.03.22—13.03.22
Hyperspace
@ Les Printemps de Sévelin • Lausanne, Switzerland
28.01.22
Hyperspace
@ Trente Trente • Bordeaux, France
10.01.22—16.01.22
Hyperspace
@ Sophiensaele Berlin Tanztage • [Online]
19.09.21
Hyperspace
@ Le Dancing CDCN • Dijon, France
11.09.21—12.09.21
Hyperspace
@ Plastique Danse Flore • Versailles, France
16.07.21—17.07.21
Hyperspace
@ KoresponDance • Žďár nad Sázavou, Czech Republic
24.06.21
Hyperspace
@ Belluard, Bollwerk • Fribourg, Switzerland
30.10.20
Hyperspace
@ Internationales Bonner Tanzsolofestival • Bonn, Germany
03.10.20
Hyperspace
@ Zawirowania Festival • Warsaw, Poland
18.09.20
Hyperspace
@ Lunga Vita Festival • Rome, Italy
27.11.19
Hyperspace
@ Kino Siska • Ljubljana, Slovenia
25.10.19
Hyperspace
@ Chisenhale Dance Space • London, England
19.10.19—20.10.19
Hyperspace
@ Tramway, Dance International Glasgow • Glasgow, Scotland
05.10.19
Hyperspace
@ Dance House Lemesos • Limassol, Cyprus
21.09.19—22.09.19
Hyperspace
@ Dansens Hus  • Oslo, Norway
07.09.19
Hyperspace
@ Tanzplatz  • Novi Sad, Serbia
03.09.19
Hyperspace
@ Trois CL  • Luxembourg
06.07.19
Hyperspace
@ Dansand • Ostend, Belgium
25.06.19
Hyperspace
@ Korespondance • Prague, Czech Republic
14.06.19
Hyperspace
@ Annantalo • Helsinki, Finland
21.05.19—22.05.19
Hyperspace
@ Dansstationen • Malmö, Sweden
10.05.19—11.05.19
Hyperspace
@ New Baltic Dance • Vilnius, Lithuania
27.04.19
Hyperspace
@ Performa Festival • Bellinzona, Switzerland
13.04.19
Hyperspace
@ Théâtre de Vanves • Paris, France
06.04.19
Hyperspace
@ Aerowaves Spring Forward • Paris, France
20.03.19—23.03.19
Hyperspace
@ Dance Massive (Dancehouse) • Melbourne, Australia
07.03.19—09.03.19
Hyperspace
@ Canberra Theatre Centre • Canberra, Australia
29.09.18
Hyperspace
@ La Briqueterie  • Paris, France
23.08.18—26.08.18
Hyperspace (World Premiere)
@ B.motion • Bassano Del Grappa, Italy