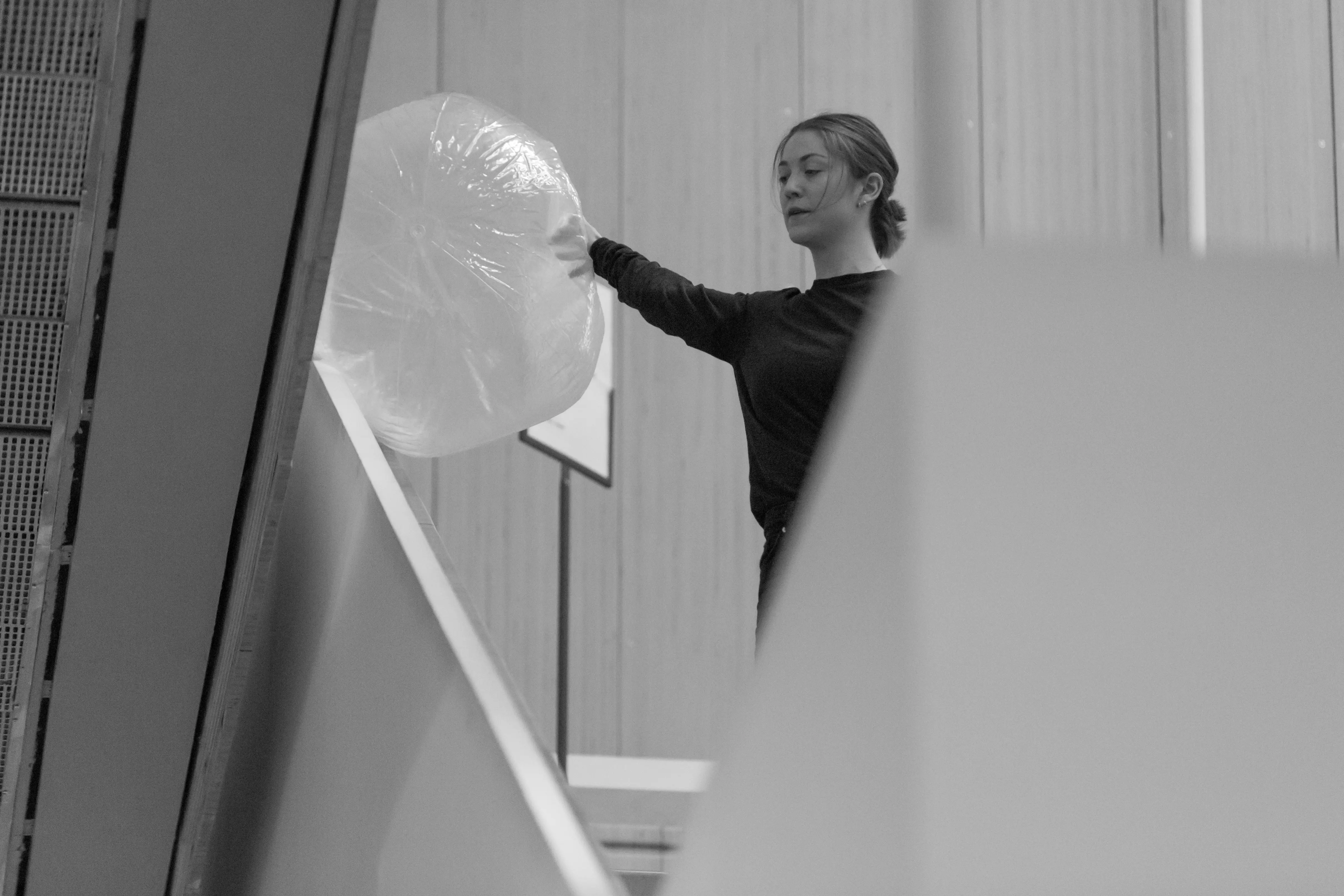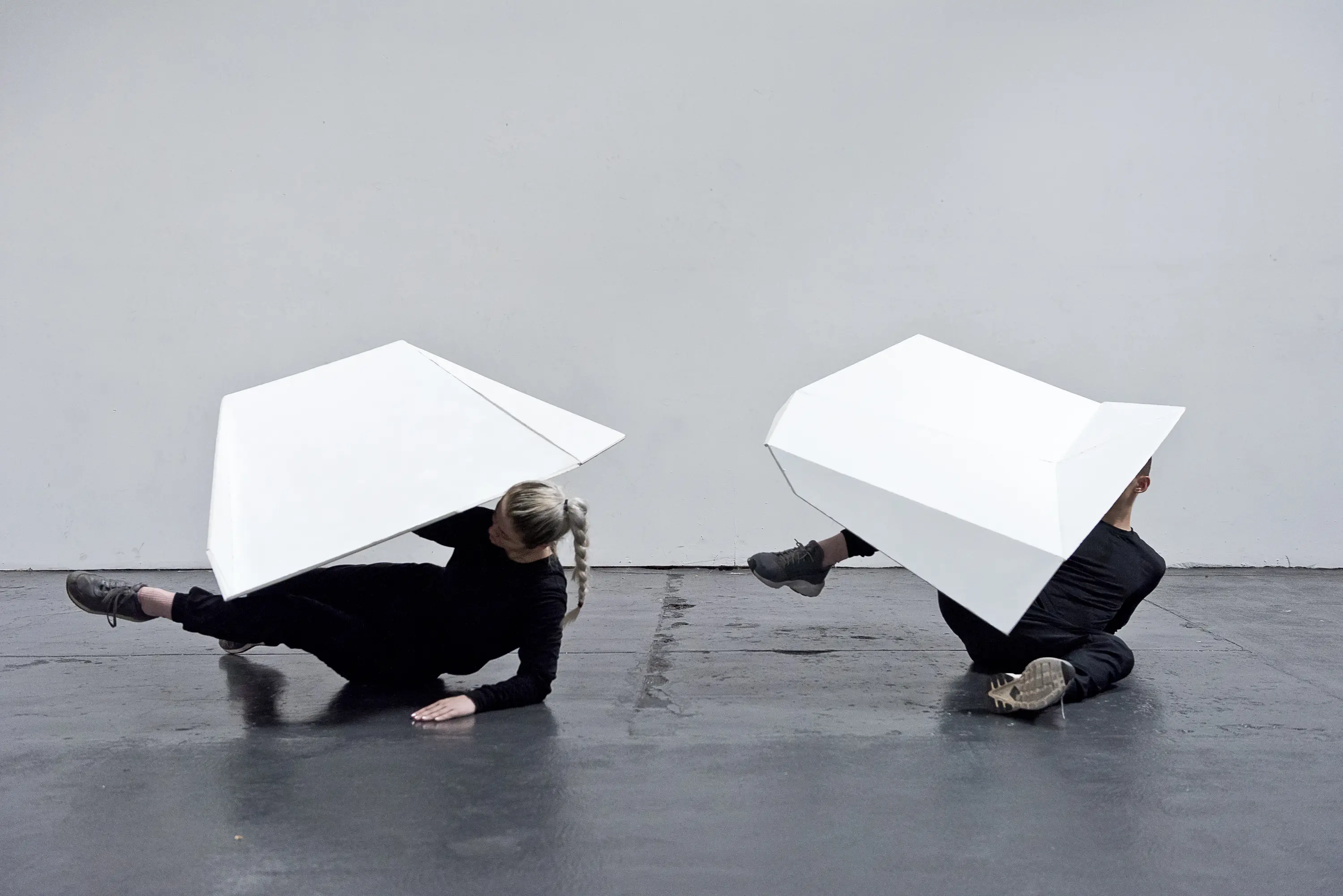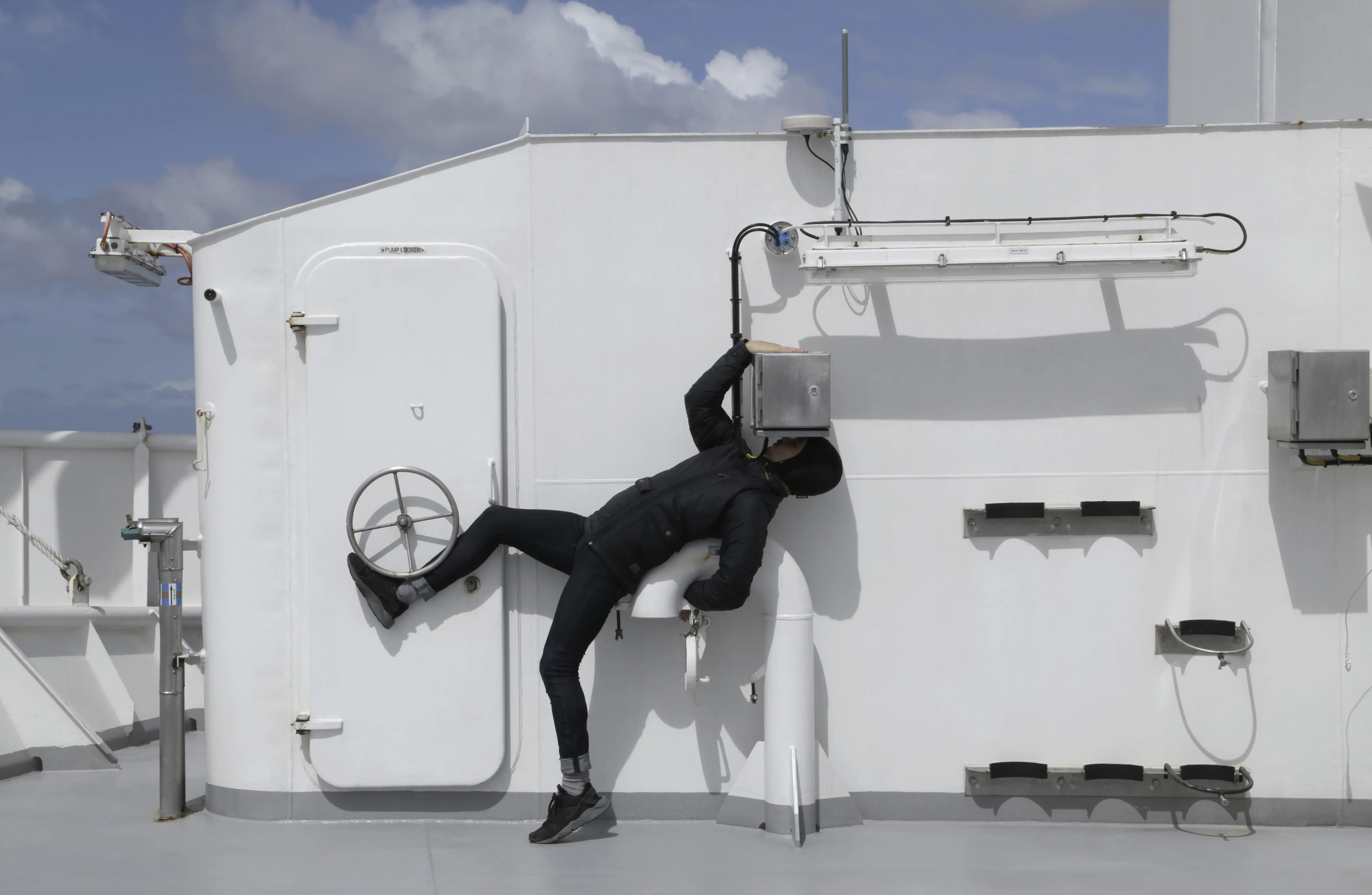 Deepspace
From the immediate source of the body through to visual and sonic translations, Deepspace investigates arts and science as methods of inquiry into the unknown. In this work, the body is located between the extremities of remoteness and proximity, connectedness and isolation, certainty and uncertainty.
"In January 2016, I joined a team of 60 scientists, students, artists and ship's crew on an expedition t o the sub-Antarctic Heard and McDonald Islands. Not Antarctica itself, but equally fascinating. Floating on the ocean's surface in one of the most isolated places on Earth, science and art processes converged with surprising synergies. It was a particularly unique and inspiring space to study and research the body in movement. On a constantly moving platform, simply searching for stillness and stability was a task in itself. It was a relentless project, for two months at sea; it demanded extreme patience and flexibility to meet the myriad of challenges that exist in such harsh environments. The isolation, confinement and repetitiveness of our daily experience prompted a profoundly unique approach to space and time. From this unfamiliarity, I developed a particular sensitivity to the body.
In embarking on this expedition, my primary question was; could my body be a map? I wondered how it could be a record and what information it could hold in its physical intelligence.
By the end of the expedition, I had touched nearly every surface on the ship and in my skin I held a physical record. The next task was to see how this record is transmitted. What does it communicate, how is it useful?"
Read more about James' experience and Deepspace in his essay Thoughts on Deepspace
Reviews/Press
'Deepspace, profoundly and superbly performed by Batchelor, fellow dancer Chloe Chignell and musician Morgan Hickinbotham, is in fact a shared experience that brings the audience onboard that ship and beyond it. Doors of imagination and perception open up and allow us to travel, to be moved and feel displaced. A constant but diverse rhythm gives the sensation of being shifted by changeable and hauling waves. The work is serious, attentive, delicate, alert, multilayered, spatial; it's representation deeply poetic and enthralling. Deepspace is a wonderful embodiment of something ungraspable and majestic.' - Veronica Posth (Seeing Dance)
'James Batchelor evokes Antarctic journey in Deepspace' - Kerrie O'Brien (The Age)
'In the extreme circumstances that Batchelor found himself on RV Investigator (and, curators might argue, as the consequences of climate change continue to unfold), the body becomes an alien, remarkable thing that requires a new blueprint, a new cartography, to preserve itself.' - Barnaby Smith
Format Site Responsive, Standing Audience
Duration 55 minutes
Creative Team
Choreographer: James Batchelor
Performers: James Batchelor, Chloe Chignell/Amber McCartney
Visual Artist: Annalise Rees
Sound Design: Morgan Hickinbotham
Funding/Partners
Deepspace has been supported by the Australian Government through the Australia Council for the Arts, the ACT Government through Screen ACT and the City of Melbourne through Arts House. Deepspace was developed through Arts House's CultureLAB with the assistance of Creative Victoria.
DATES ∴
PAST
27.05.23
Deepspace Den Haag
@ Korzo • Den Haag, Netherlands
14.03.23—17.03.23
Deepspace Berlin
@ Traumabarundkino • Berlin, Germany
18.09.21
Deepspace
@ Le Dancing CDCN • Dijon, France
26.10.19
Deepspace
@ Centre Pompidou • Malaga, Spain
19.10.19
Deepspace
@ Tramway, Dance International Glasgow • Glasgow, Scotland
28.08.19—31.08.19
Deepspace
@ Tanz im August • Berlin, Germany
27.04.19—28.04.19
Deepspace
@ Performa Festival • Bellinzona, Switzerland
09.12.18
Deepspace
@ December Dance • Brugge, Belgium
30.11.18
Deepspace
@ Lonely in the Rain? • Outokumpu, Finland
24.11.18
Deepspace
@ Jonge Harten Theatre Festival • Groningen, Netherlands
15.11.18—18.11.18
Deepspace
@ Vitalstatistix • Adelaide, Australia
08.09.18—09.09.18
Deepspace
@ Homo Novus  • Riga, Latvia
31.08.18
Deepspace
@ Inernationale Tanzmesse NRW • Dusseldorf, Germany
13.07.18—14.07.18
Deepspace
@ Arnolfini  • Bristol, England
01.07.18
Deepspace
@ Chisenhale Dance Space • London, England
23.02.18
Deepspace
@ Australian Performing Arts Market • Brisbane, Australia
23.12.17
Deepspace
@ Canberra Playhouse • Canberra, Australia
19.10.17
Deepspace
@ Trois CL  • Luxembourg
24.09.17
Deepspace
@ Plastique Danse Flore • Versailles, France
27.08.17
Deepspace
@ B.motion • Bassano Del Grappa, Italy
20.03.17
Deepspace
@ Artshouse, Dance Massive • Melbourne, Australia
04.11.16
Deepspace
@ MONA • Hobart, Australia
24.09.16
Deepspace
@ Salamanca Arts Centre • Hobart, Australia
19.08.16
Deepspace
@ Tasmanian Museum and Gallery  • Hobart, Australia