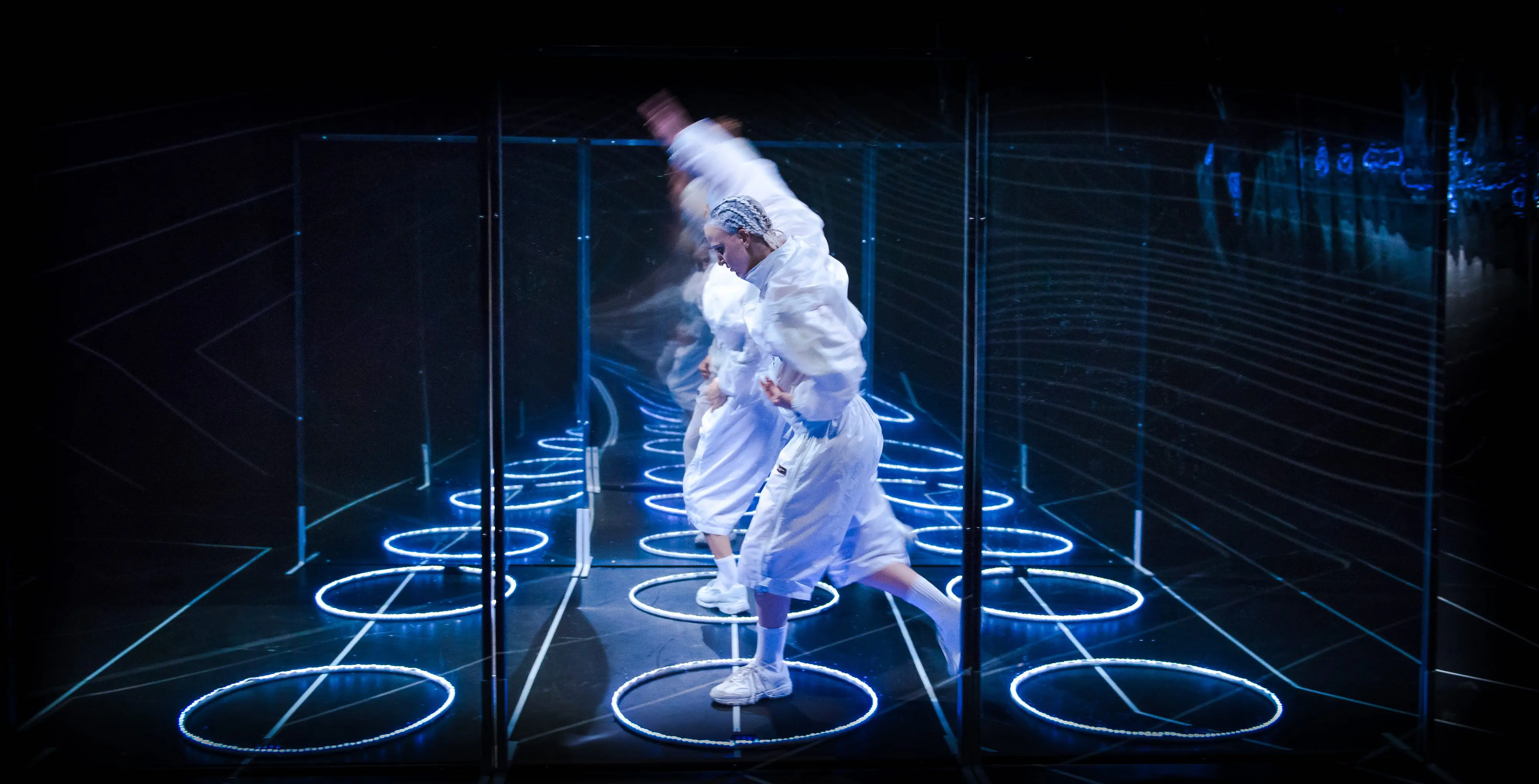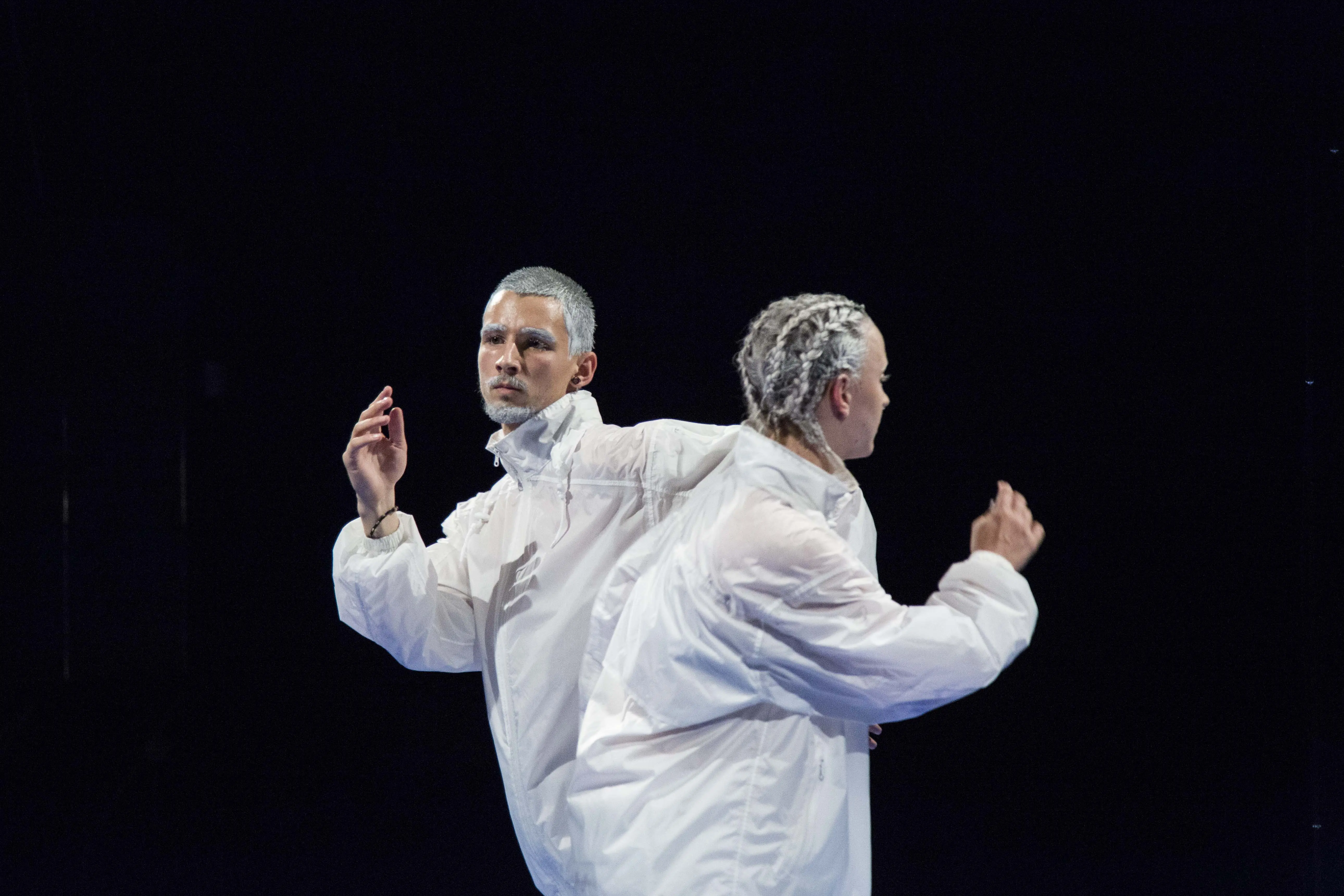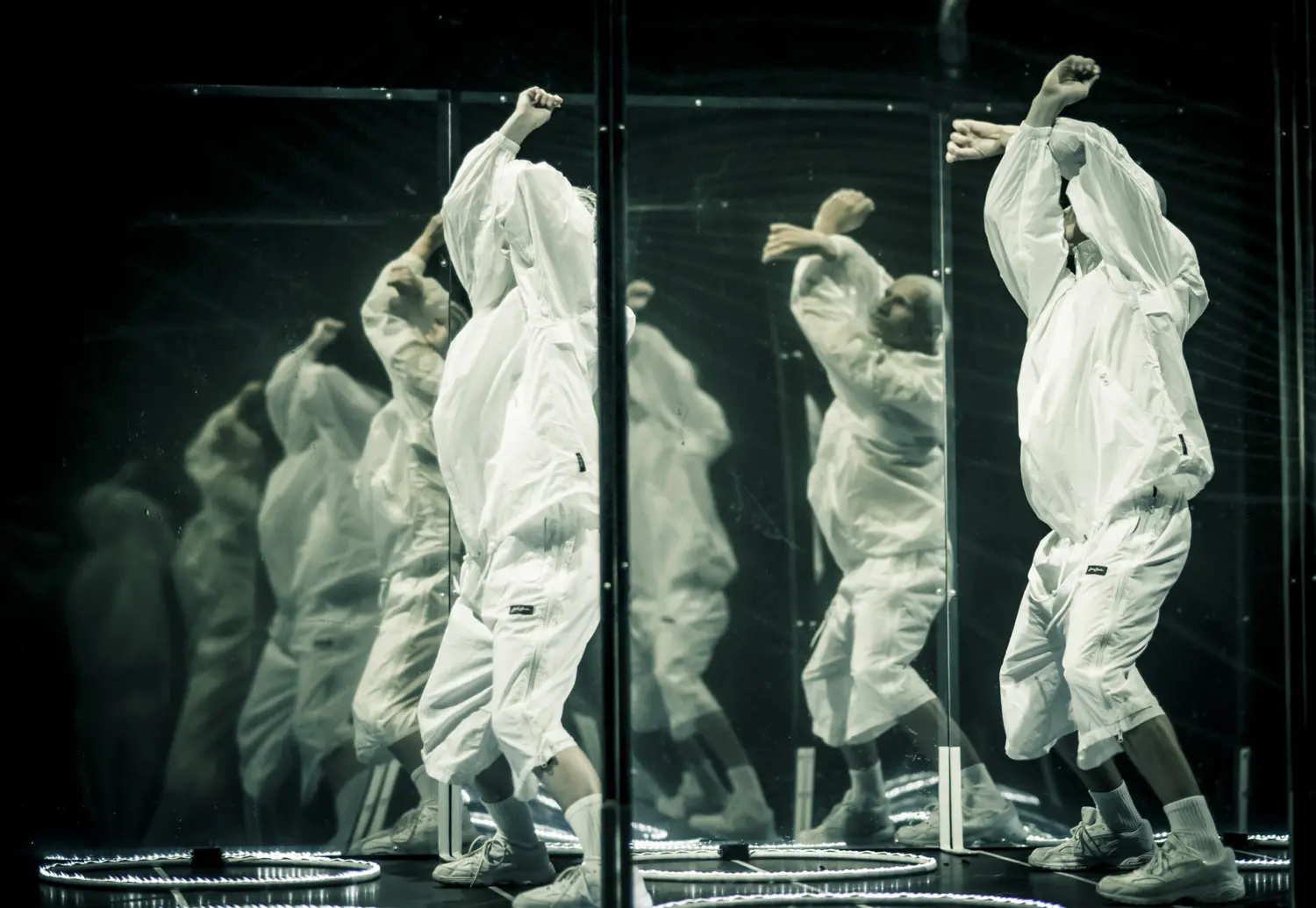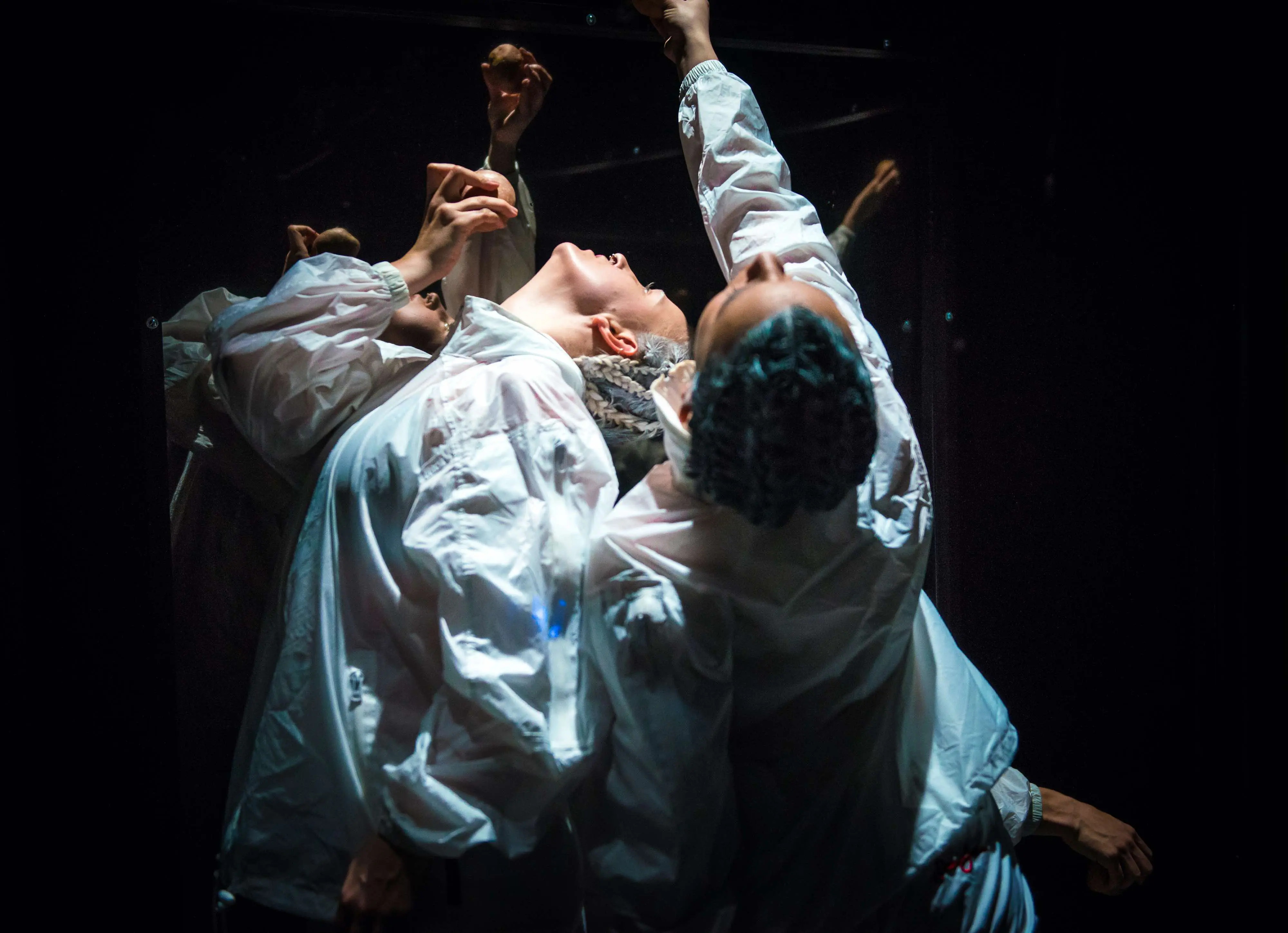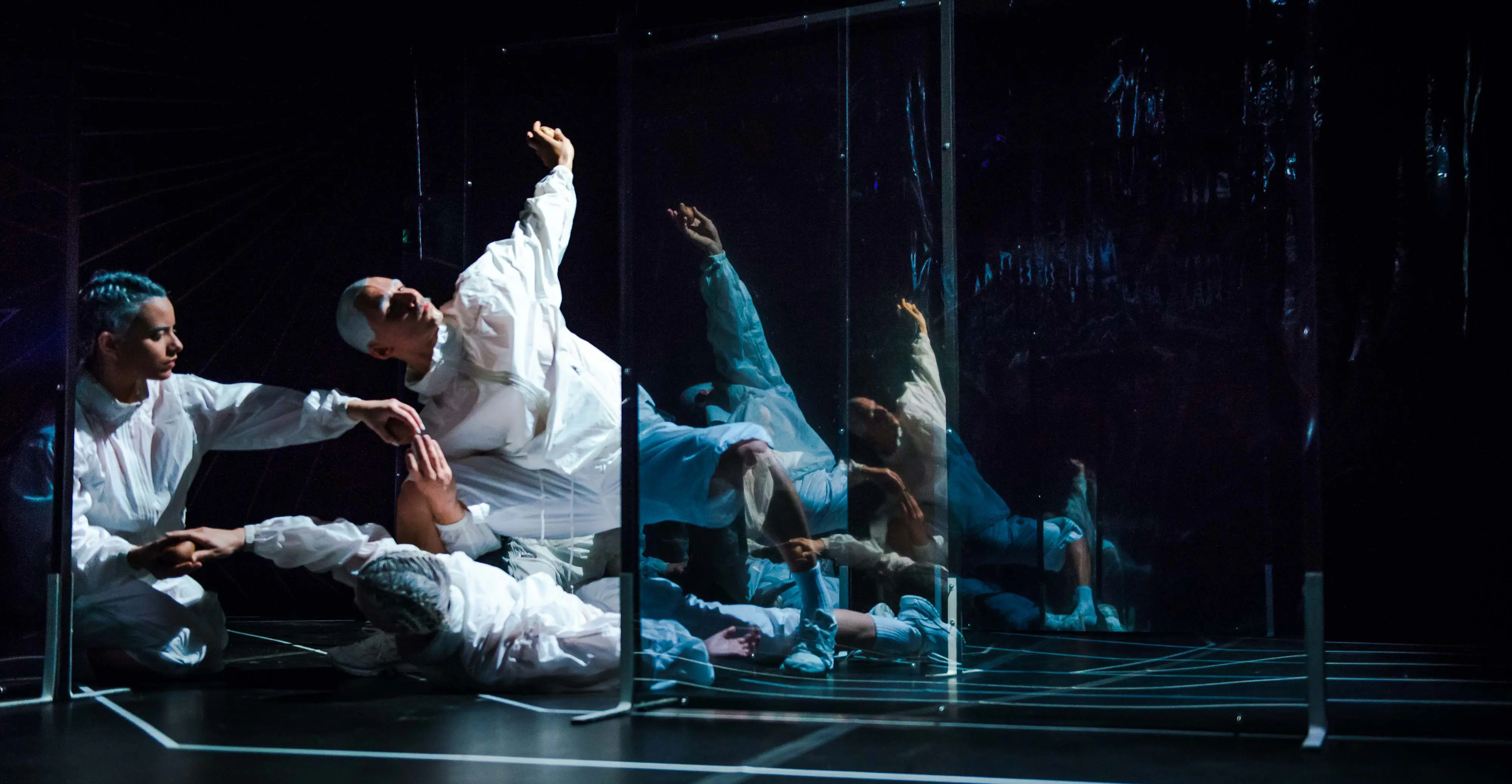 Island
Island combines dance with interactive design and live sound to immerse the audience in a futuristic world of remote utopias. Island seeks to challenge the perceived boundaries that separate body and environment, creating an awareness of an interconnected and overlapping space. Sourcing inspiration from the fictionalized utopias of Aldous Huxley and Philip K Dick, the work takes us to a remote and uncertain future. Subtle shifts in light, sound and movement create an infinite space-time where the human body and its interactions with the environment come under close scrutiny.
It is an intimate and multisensory performance that invites the audience to move freely through the space, in close proximity to each other and the performers. A bank of transparent panels become reflective mirror surfaces according to the position of the audience member. This dynamic relationship prompts curiosity and movement in the audience as they form part of a subtly shifting landscape.
'James Batchelor's Island offers an enthralling glimpse of a cyberpunkish, posthuman utopia, a choreographic world of overlapping spaces, uncanny bodies and wistful satellites.' – Time Out Melbourne.
'We are watching a world fragmented, ever detaching. But we're free to roam around it. At a step, the specters vanish and the dancer is revealed as a tangible body. A few steps more and they slip again into other, subtle distortions.' – RealTime Arts
Direction and Concept – James Batchelor
Architect and Design – Ella Leoncio
Sound Design – Morgan Hickinbotham
Performers – James Batchelor, Bicky Lee, Amber McCartney
This project is supported by the ACT government through Arts ACT, the Canberra Theatre Centre and Dancehouse through the Housemate Performance Residency.
Reviews:
Chloe Smethurst in THE AGE
Jessica Sabatini in REALTIME
Andrew Furhmann in TIMEOUT
Michelle Potter
Awards:
ISLAND won the ACT Arts Award (Dance) from the Canberra Critic Circle in 2014
ISLAND won the 2014 Green Room Award 'Concept & Realisation'
ISLAND received a nomination for the 2014 Green Room Award 'Visual Design'
ISLAND as 'Best New Work' nominated by Chloe Smethurst in Dance Australia 2014 Review
James Batchelor as 'Most Interesting Australian Artist' from Michelle Potter in Dance Australia 2014 Review
Amber McCartney as 'Dancer to Watch' for ISLAND from Jordan Vincent in Dance Australia 2014 Review
DATES ∴
PAST
11.06.14—15.06.14
Island
@ Dancehouse • Melbourne, Australia
30.04.14—03.05.14
Island
@ Canberra Theatre Centre • Canberra, Australia