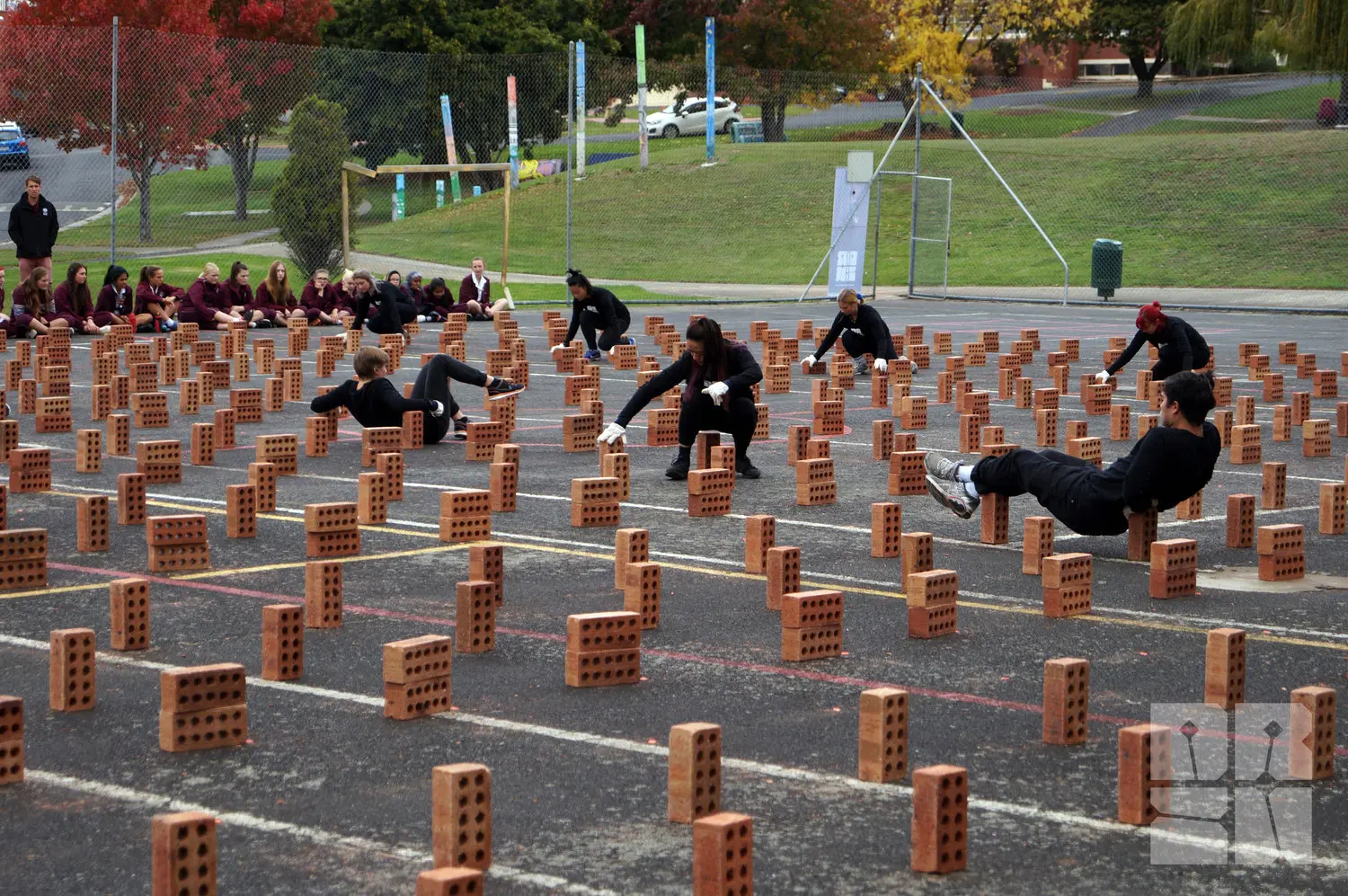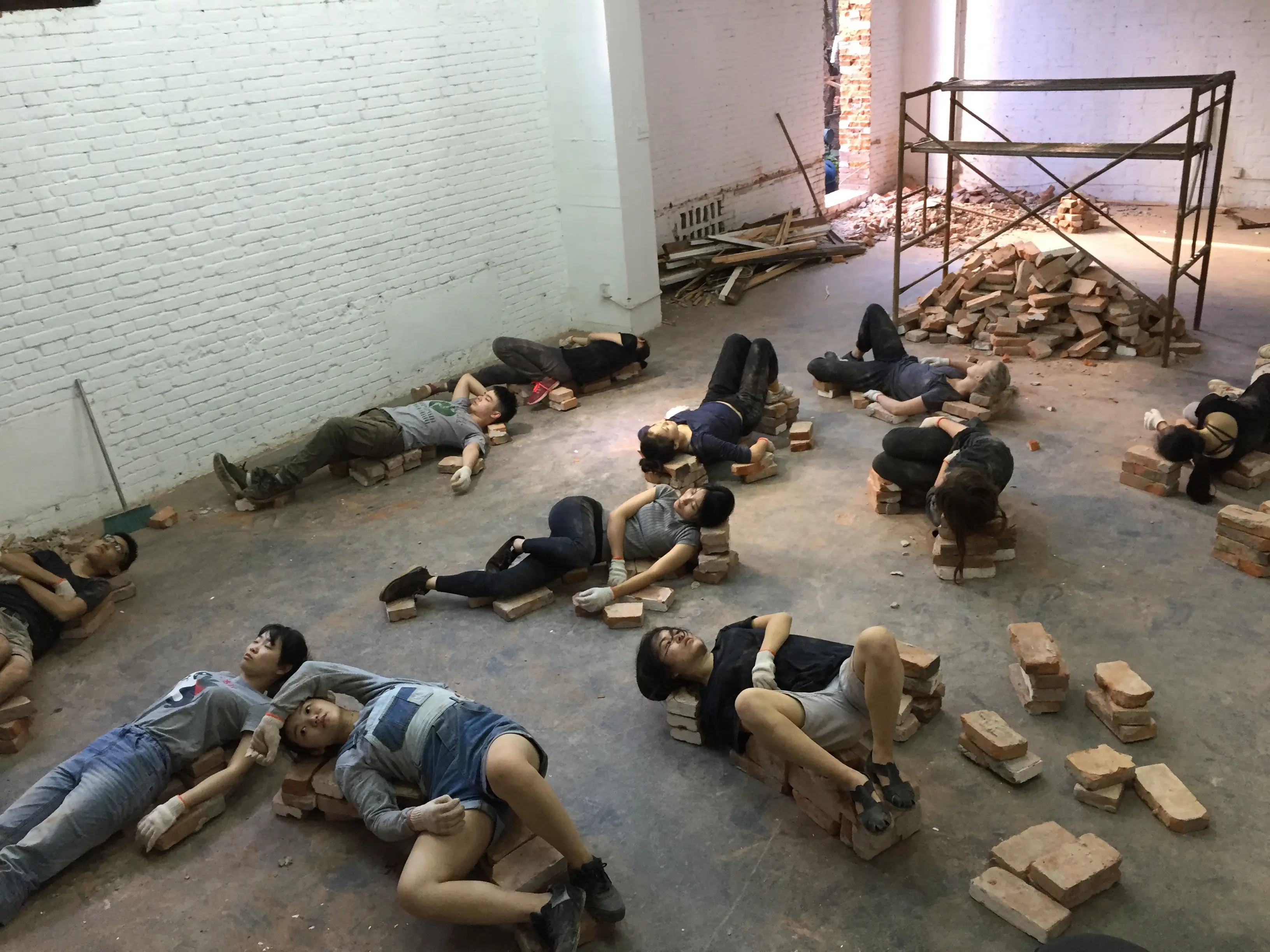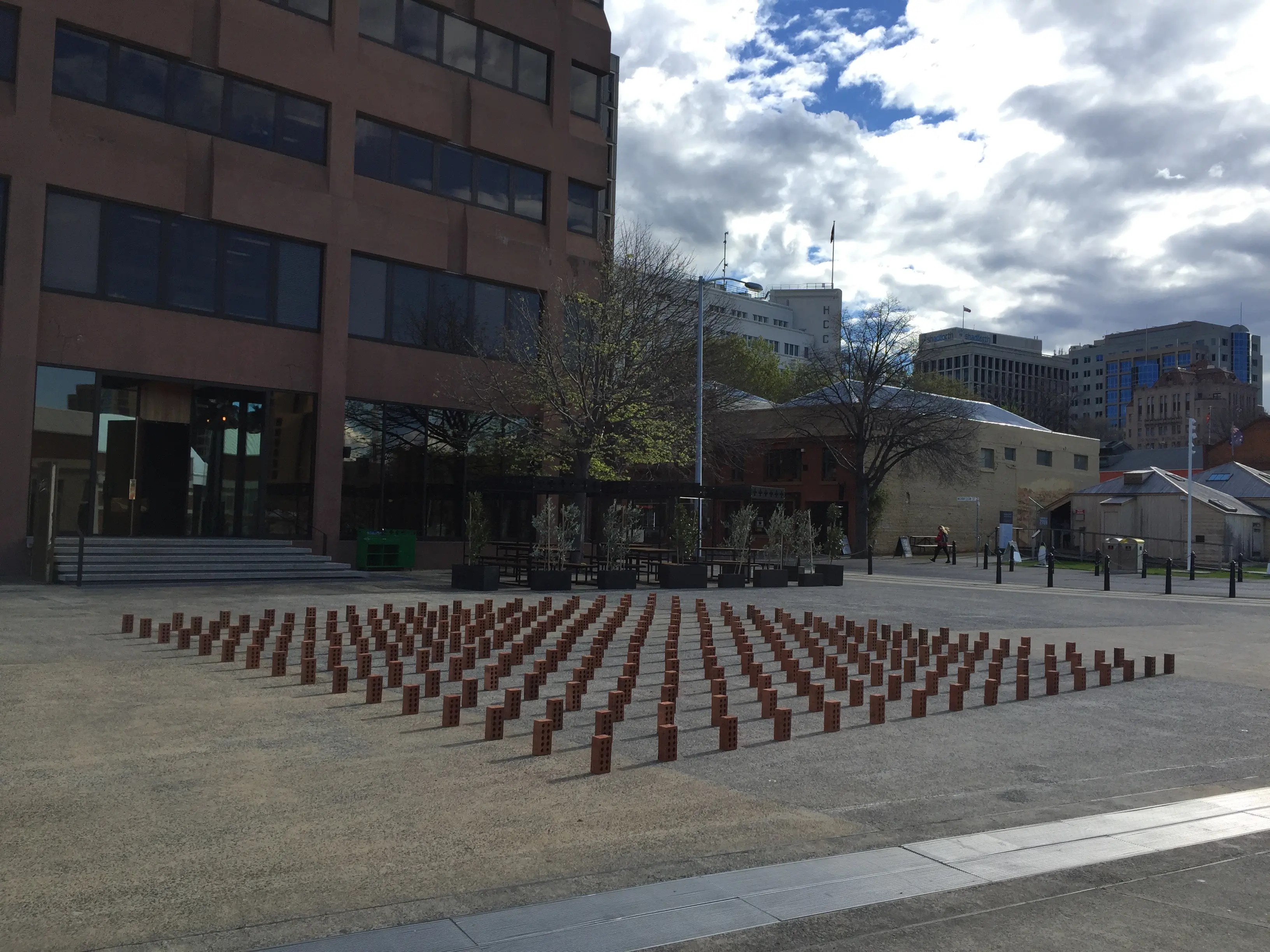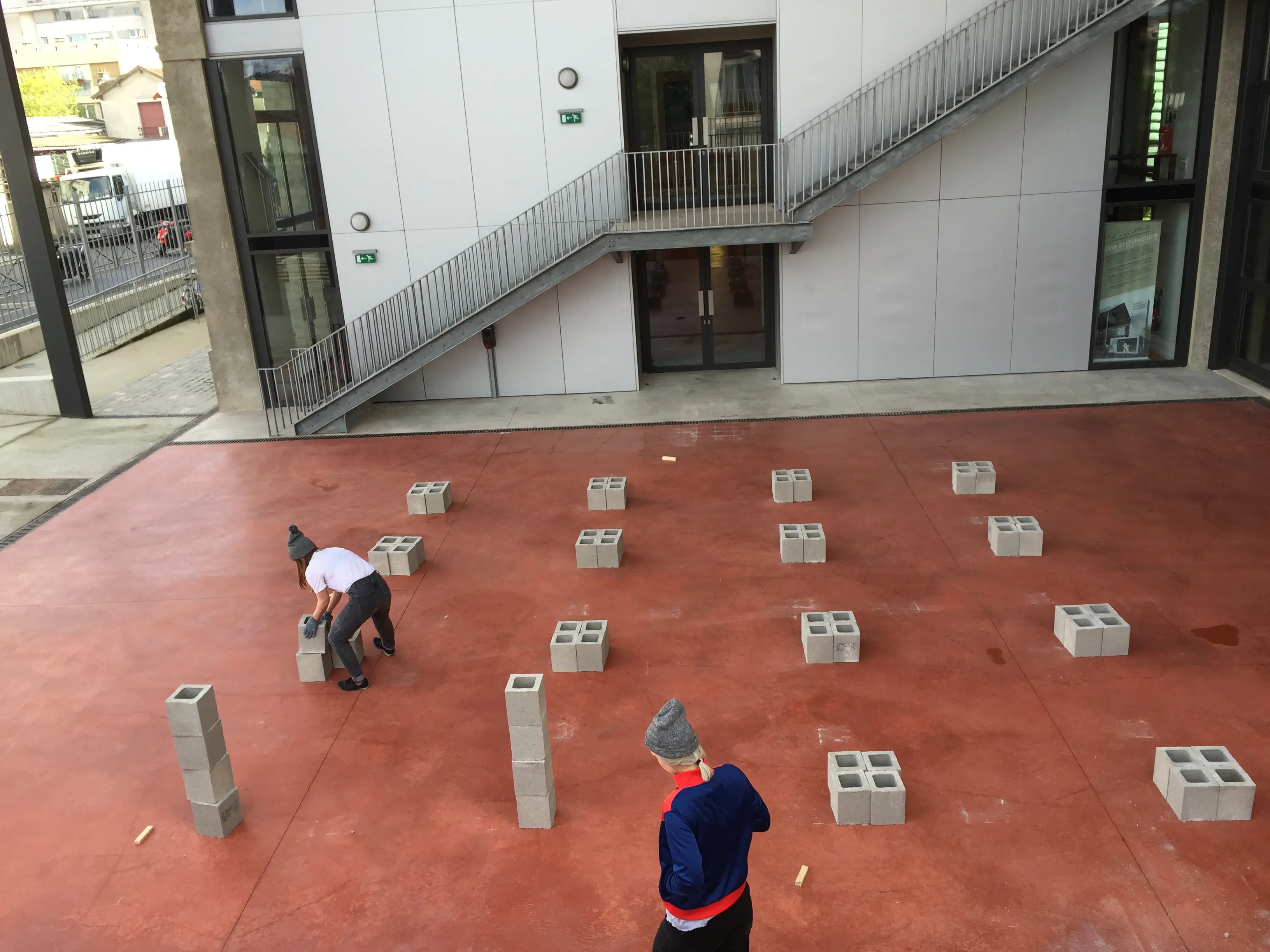 Metasystems
Metasystems is a performance series that evokes cycles of construction through a rhythmic landscape of moving bricks of varying quantities and scales. Since its original conception as part of the inaugural Keir Choreographic Award in 2014, the work has now seen many iterations around the world in theatres, galleries and public spaces.
Metasystems is an assemblage of raw building materials with the body, a rhythmic landscape of construction and movement. The work emerged from the documentation of construction sites, originally high rise towers in the centre of Melbourne, Australia. The choreography is informed by these documented processes and the specific bodily navigations and interventions within the organism of the constuction site. This orignally manifested in complex grid-like formations that highlighted the mathematical elegance yet inevitable breakdown of precision when it comes to dealing with matter. Later iterrations explored ways in which the body could navigate the violence of the brick material itself and attempt to construct positions of comfort and rest.
The work ultimately invites us to consider our local environment and its inherent motions and rhythms, perhaps to realise that buildings, seemingly so fixed, are always in movement. From conception to demolition they are negotiations between the people who make, use and experience them.
PART 1: ESCAPE TO THE INFINITE (2014) 20 minutes
3 performers, 64 besser blocks
The first iteration of Metasystems Escape to the Infinite, was commissioned by the inaugural Keir Choreographic Award in 2014 and developed at Dancehouse, Melbourne and Carriageworks, Sydney. The three performers (James Batchelor, Madeline Beckett and Amber McCartney) construct a mesmerising and rhythmic landscape with their movements. The 64 concrete besser blocks are carefully stacked, placed and slid through a series of grid-like formations. The choreography is based on the distinct physcialities of construction workers documented at high rise construction sites in central Melbourne and near Carriageworks in Sydney.
Performers: James Batchelor, Madeline Beckett, Amber McCartney
Supported by The Keir Foundation, Australia Council for the Arts, Dancehouse Inc and Carriageworks.
PART 2: DUPLICATION (2015) 30 minutes
4 performers, 256 quarter blocks or clay bricks
Duplication is the sequel to Escape to the Infinite, that starts to experiment with quantities, ratio and scale. With greater intimacy between body and concrete comes an increased complexity in this work. There is also an amplified sense of precariousness created by the continuously impending possibility of error. The choreography in Duplication is based on the study of building maintenance and navigation, including window washing, painting, cleaning and metal scaffolding construction as documented in Melbourne and Canberra. Architect Anna Tweedale was invited to join the process to experiment with ways that the work could be documented or visualised as a construction process over time. She produced a series of detsailed drawings that map the positions of the bricks.
Performers: Emma Batchelor, James Batchelor, Madeline Beckett, Amber McCartney
Alternate Performers: Kara Burdack, Emma Porteus, Angela Barnard, Lauren Stanley
Supported by the ACT government through Arts ACT, Canberra Theatre Centre and City of Melbourne.
PART 3: MULTIPLICATION (2015) 35 minutes
8 performers, 576 paving stones
Multiplication is the third Metasystems work made within the frame of a five week resdiency in Bangkok supported by the Australia Thailand Institute. It is a complicated system with eight performers moving bricks in unison and weaving through the intricate and maze-like pathways. The choreography was formed through documentation of construction workers constructing and navigating bamboo scaffolding in Bangkok.
Performers: James Batchelor, Paopoom Chiwarak, Pakhamon Hemachandra, Tanakorn Kanjan, Amber McCartney, Jittima Muangsuwan, Vanalin Pachimsawat Vadtanakovint, Navinda Pachimsawat Vadtankovint
Supported by the Australian Government through the Department of Foreign Affairs and Trade and Creative Industries.
PART 4: ASSEMBLAGE (2015) 40 minutes
2 performers, 128 3D printed blocks
Assemblage examines the process of searching for, ordering, manipulating and combining objects. Departing from the orderly grid-like formations of previous Metasystems works, choreographer James Batchelor and visual artist Madeline Beckett worked with Melbourne based architects Kae Woei Lim and Elena Lowe of XYZ Workshop to design a set of unique 3D printed objects. The 128 pieces are made from 75kg of filament and took over 800 hours to print using two Ultimaker 3D printers. The performance involves the demanding task of finding, sorting and assembling all 128 3D printed objects one by one as they gradually form a single structure.
Performers: James Batchelor, Madeline Beckett
3D printing design and construction: XYZ Workshop
Supported by the City of Melbourne.
PART 5: VIOLENCE (2015) 40 minutes
12 performers, clay bricks demolished from gallery wall
Choreographer James Batchelor made Violence together with Australian artists Madeline Beckett and Amber McCartney with 9 Chinese artists during a 1 week residency at 501 Art Space in Chongqing China.
In the residency, two wall segments in the gallery were removed, providing the raw materials for the work and bringing bricks into movement that had been static for over 50 years. The work Violence responds to the physical process of demolition and a repurposing of clay bricks into simultaneously beautiful and violent relationships with the body. As the body fails, the bricks fall and crumble. The performers continue in their task to find comfort in the positioning of the body against these heavy and dusty objects.
PART 6: METASYSTEMS WITH DRILL (2017) 40 minutes
14 performers, 1000+ clay bricks
In 2017 DRILL, a youth dance company based in Hobart, Tasmania commissioned James to create a large-scale Metasystems work with the company dancers. This took place over a week-long intensive process and was presented at Ogilvie High School.
Performers: Aimee Schollum, Ayame Ochi, Bella Young, Chelsea King, Ebony Nichols, Elise Jackson, Gayl Koh, Jaala Jensen, Jenn Ma, Julian Bennett, Kaani Booth, Kady Mansour, Michaela Tancheff & Shani Glenn-Ward
Produced by: Joshua Lowe (DRILL)
PART 7: AN ARTIST IN YOUR BACKYARD (2017)
Clay bricks from neighbour's wall in Carlton.
An Artist in Your Backyard was a project intiated by Dancehouse supported by the City of Melbourne, that invited James as a lead artist to be in residence for 10 weeks in the outdoor areas of a neighbouring community housing estate. This iteration of Metasystems invited residents and members of the community to participate in a process of working with the brick material in a playful and exploratory way. Each week, James and his collaborators brought bricks to the public space and proposed possible methods of building structures with and around the body, particularly relations of comfort or rest. Over time this invitation led to people in the community, particularly young people, joining in and being engaged in co-devised experiments.
Collaborators: Antony Hamilton, Leisa Shelton, Jessie Oshodi
Reviews
'Metasystems is an extraordinarily interesting and ultimately beautiful work which will reward further viewing. It is notable for its originality and complexity, and as an exciting demonstration of the maturation of Batchelor's ability to present complex ideas in accessible dance form.' – City News
'Metasystems is captivating to watch. The action is all at once a constantly evolving installation with a percussion instrument that underscores the piece.' – Bangkok Post
'That Batchelor can surprise like this is what makes his work so worth following.' – Michelle Potter
DATES ∴
PAST
15.07.22—17.07.22
Metasystems Žďár
@ Korespondance • Žďár nad Sázavou, Czech Republic
05.11.17—17.12.17
Metasystems
@ An Artist in Your Backyard • Melbourne, Australia
03.05.17
Metasystems
@ Ogilvie High School  • Hobart, Australia
12.11.16—13.11.16
Metasystems
@ MONA • Hobart, Australia
27.09.16—01.10.16
Metasystems
@ Salamanca Arts Centre • Hobart, Australia
16.04.16
Metasystems
@ You are Here Festival • Canberra, Australia
03.10.15
Metasystems
@ 501 Artspace • Chongqing, China
26.09.15
Metasystems
@ La Briqueterie  • Paris, France
20.08.15—23.08.15
Metasystems
@ B.motion  • Bassano del Grappa, Italy
01.07.15—05.07.15
Metasystems
@ fortyfivedownstairs • Melbourne, Australia
19.06.15—21.06.15
Metasystems
@ Creative Industries • Bangkok, Thailand
12.02.15—15.02.15
Metasystems
@ Canberra Theatre Centre • Canberra, Australia
06.02.15—08.02.15
Metasystems
@ Summersalt Outdoor Festival • Melbourne, Australia
10.07.14—13.07.14
Metasystems
@ Keir Choreographic Award, Dancehouse • Melbourne, Australia