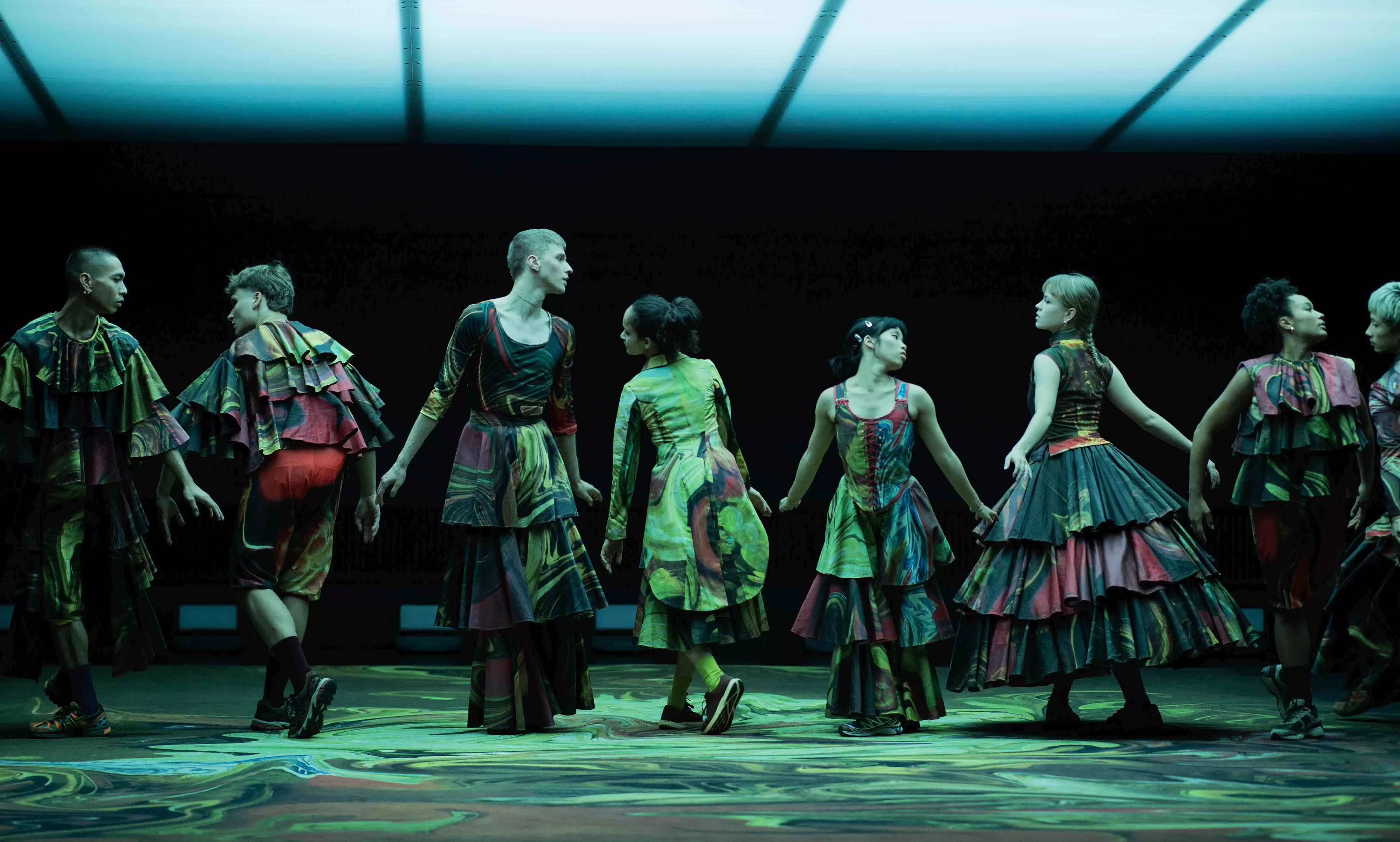 Event
Event was created in the frame of a shared evening of new works called Everlasting Event from Swedish company Norrdans by James Batchelor (Event) and Jeanine Durning (Everlasting - a new love) premiering at Norrlandsoperan Umeå in October 2023 ahead of a national tour in Sweden.
In Event, you encounter a sensuous world of looping patterns and oceanic ripples. Ornamented with a hint of the baroque, the dancers find joy in connection, synchronising and falling into rhythm with techno-like beats.
Artistic Team
Choreographer: James Batchelor
Composer: Morgan Hickinbotham
Set and Light designer: Chrisander Brun
Costume Designer: Idah Sanderson
Rehearsal Director: Aaron Vickers
Dancers: Leila Verlinden, Chang Liu, Sam Huczkowski, Lander Casier, Kevin Julianto, Damini Gairola, Alberte Buch Gøbel, Sierra Kellman, Dengling Levine, Elia Zahnd
Reviews
"The stage is covered by a painting with sinuous, swelling shapes in warm colors reminiscent of the Baroque.One gets the exciting feeling that the ten dancers, some wearing crinolines others in many layers of frills, have risen from the painting and are bringing it to life.
In the expressive but at the same time poetic piece Event, it is clear that the experiences of the club atmosphere in Berlin are mixed with an interest in historical influences. In today's turbulent, tough world, one can ask what is happening to us humans. Roots to our history can of course contribute to breathing, new thoughts and, at best, visions for the future." - Yvonne Rittval
"The choreography, by James Batchelor, has a ceremonial feature that gradually expresses itself in spins, like those of dervishes, and jumps that become more and more extreme, with the character of releasing. There is an exuberant quality in the various turns of the dance, sometimes in solos and partner dances or in ring dances. We are here in a world of euphoria. But this paradisiacal existence turns out to be transitory after all, time was of course still passing and the figures' dream existence has come to an end. Event ends like a ghost ballet." - Peter Stenson
"Event" is an excellent example of the talent of the younger dance generation to pick the raisins from dance history and mix with their own contemporary taste and rhythm." - Cecilia Djurberg
DATES ∴
PAST
30.11.23
'Event' by James Batchelor/Norrdans Lycksele
@ Medborgarhuset • Lycksele, Sweden
28.11.23
'Event' by James Batchelor/Norrdans Skellefteå
@ Nordanå Theater • Skellefteå, Sweden
26.11.23
'Event' by James Batchelor/Norrdans Haparanda
@ Folkets Hus • Haparanda, Sweden
23.11.23
'Event' by James Batchelor/Norrdans Piteå
@ Christinasalen • Piteå, Sweden
21.11.23
'Event' by James Batchelor/Norrdans Luleå
@ Kulturens Hus • Luleå, Sweden
14.11.23
'Event' by James Batchelor/Norrdans Östersund
@ Storsjöteatern • Östersund, Sweden
10.11.23
'Event' by James Batchelor/Norrdans Härnösand
@ Härnösands Theater • Härnösand, Sweden
06.11.23—07.11.23
'Event' by James Batchelor/Norrdans Sundsvall
@ Sundsvall Teater • Sundsvall, Sweden
01.11.23—02.11.23
'Event' by James Batchelor/Norrdans Stockholm
@ Dansens Hus • Stockholm, Sweden
25.10.23—26.10.23
'Event' by James Batchelor/Norrdans (World Premiere)
@ Norrlandsoperan Umeå • Umea, Sweden